If you're considering selling your home, you might have encountered the term all-cash offer. Or maybe as you're driving around town or scrolling online, you've seen advertisements from businesses that say they buy homes for cash. Here we'll tell you what it really means.
Here we will detail the basics of cash offers and the pros and cons of such deals to help you decide whether to sell your house for cash or stick with a traditional offer.
A cash offer is when a potential buyer offers to pay for the entire cost of the house without using a mortgage loan or other financing. According to
research
by ATTOM Data Solutions, all-cash purchases accounted for 21.6% of single-family home and condo sales nationwide in the third quarter of 2020.
The number of cash offers you may receive can depend on many factors, including your local housing market, your home's condition, or if you seek a cash offer online.
Here are some of the typical cash home buyers you might encounter when selling your home:
Potential buyers - More and more average home buyers are bidding with a cash offer to stand out amongst the competition. This can be more common in a seller's market, where inventory is tight, buyer demand remains high, and bidding wars are more likely.
We Buy Houses companies - These are companies advertising that they'll buy your house for cash. Common claims include phrases like we buy any home and we buy ugly houses. These companies aim to make cash offers on homes that might be in poor condition. They buy them on the cheap, fix them up, and sell them again for a profit.
House flippers - House flipping, according to Bankrate, is when someone buys a property, holds onto it for a short time, and then sells it (the flip part) for a higher price. A house flipper may also take a fixer-upper and renovate it to make it market-ready. Either way, their goal is to buy low and sell high, earning a profit in a relatively short amount of time. Often flippers will make offers on homes before they get listed for sale to get a jump on the competition. If your home is more of a fixer-upper and you'd like to sell as is, you may receive a cash offer from house flippers.
iBuyers - An iBuyer, short for the instant buyer, is a real estate company or real estate tech business that uses software to determine the value of homes and make instant cash offers on them. The programs and algorithms they use estimate your home's value based on the information you provide and recently sold properties in the area. iBuyers often charge a fee for the convenience of selling your home fast, which is typically a percentage of the sale price. It's also important to note they have strict purchase criteria, and may only be available in select markets.
Real estate investors - Those looking to turn houses into investment or rental properties may also bid with cash.
1. Fewer Contingencies
There are usually fewer contingencies with a cash offer. Specifically, buyers won't need a financing contingency, which could derail the sale if they don't qualify for a mortgage loan. There also won't be a need for an appraisal that lenders require to make sure the home's value matches its sale price. Still, remember that every situation is unique. Some cash buyers may still ask for other contingencies, especially an inspection contingency, to protect their investment.
2. No Need to Do Repairs or Home Staging
Selling the traditional way requires deep cleaning, decluttering, repairing, and even renovating, as well as staging your home. Not to mention that you have to keep your home clean throughout showings and open houses. This can be the most time-consuming, expensive, and stressful process of selling. Accepting a cash offer means you can sell your home as-is since these buyers typically won't require any repairs or updates to be made. Most of them are planning on doing the renovation themselves, saving you from putting money into a property you're just trying to sell.
3. Shorter Closing Process
Since there isn't a mortgage application and underwriting process to wait for, which can take up to 60 days, a cash transaction cuts down on the timeline. You may be able to close in as little as two weeks. However, this timeline can vary since you still need the buyer's proof of funds and time to complete other closing requirements. But with a faster closing period, you'll be able to get moving quickly and easily, especially if it's because of a new job or any other commitment.
1. You Will Likely Get Less Money From the Sale
Whether from an iBuyer, investor, house flipper, or even a traditional home buyer, the flip side of a cash offer is it may be lower than what you'd expect. It can also be hard to negotiate on price since their offers are typically take-it-or-leave deals. Many of these businesses follow the 70 percent rule in real estate, meaning that they may not offer you more than 70% of your home's after-repair value. But if you're looking for a faster and easier transaction, this may not be too much of a negative.
2. Lack of Competition
The reality is that there are more traditional home buyers on the market than all-cash buyers or companies. You'll still have a better chance of getting multiple competing offers, especially in a seller's market, when you go through the traditional listing process. Dozens of other potential buyers are likely to come in with their best offer if you sell your home the old-fashioned way.
3. There's a Risk of Fraud or Scam, and the Offer Isn't Finalized Until You've Signed the Contract
Lastly, use careful judgment and do your due diligence when selling your home for cash to any company or investor. The cash home buying industry can be a magnet for real estate scams. Scammers might try to take advantage of sellers experiencing financial difficulties and looking for a quick cash sale. While not all of these companies are fraudulent, make sure you're selling to someone reputable. Another point to consider in an all-cash transaction is that despite the promise of a relatively quick and less stressful process, there is still no hard guarantee of closing until the deal is signed and you have the money in your hand.
You think it's the best offer for your situation.
You've inherited a home and don't have the resources to either maintain it or turn it into a rental property.
You need to relocate quickly and need the money or your home's equity to make a down payment.
Many of these cash buyers or investors are also targeting homes that are challenging to sell, especially those that could turn off other buyers in which no lenders will loan a buyer money to purchase the house, such as:

Homes with title flaws

Homes with large amounts of past due taxes and fees

Burned-out or storm-damaged homes

Properties with illegal conversions or code violations

Homes requiring major repairs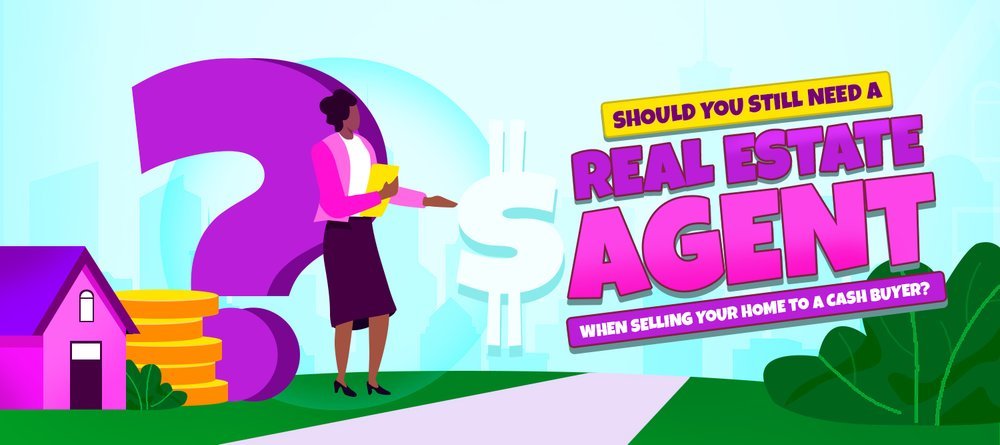 Real estate agents are licensed professionals who can guide you through the complicated process of selling your home. If you're trying to sell for cash and want to work with a large real estate business, hiring an agent isn't strictly necessary. But it doesn't mean you should forgo having their expertise. You can ask for their cash buyer recommendation, especially if they're experienced with cash sales. They can also offer valuable advice and assistance during negotiations and help you avoid scams, which is the last thing you'd want when trying to sell your home.